Liverpool survived a late scare but face an FA Cup replay with Wolves after a VAR call Julen Lopetegui called "impossible" denied Totti a late winner in a 2-2 draw at Anfield.
Toti fired home Hwang Hee-Chan's low cross in the 82nd minute to spark wild celebrations for the away side, which eventually subsided after VAR ruled for offside. ITV Video official Mike Dean said he did not have a camera angle of the alleged crime.
"We saw it and there was no offside," Lopetegui said ITV After visiting captain Ruben Neves and referee Andy Madley. "It's impossible, but someone told him it was offside. We saw the picture and it wasn't there."
It proved the final turning point in a memorable FA Cup encounter at Anfield, which saw Wolves take the lead after 26 minutes thanks to Alisson's horrific pass, before Goncalo Guedes conceded an open goal.
However, it was pure quality for the home team to equalize before halftime. Trent Alexander-Arnold's 40-yard cross was brilliantly met by Darvin Nunes who finished off Matija Sarkic.
Liverpool turned the game on its head after half-time when Toti nodded in debutant Cody Gakpo's deep cross, adjudged to have played the ball on purpose with Mo Salah.
The decision proved another point of contention for Lopetegui, who said: "Liverpool's second goal is the same. It's the same rule. Salah was offside before Toti touched the ball, obviously Toti. [reacts] service [Salah]."
Wolves were given a respite as Liverpool's fragile backline was broken again through Chan, who slotted home his first club goal in 11 months – before Totti's winner denied Lopetegui the best moment of his short Wolves career.
Both sides now face a replay at Molineux later this month amid a packed schedule.
Player rating
Liverpool: Alisson (5), Alexander-Arnold (7), Matip (5), Konate (6), Robertson (6), Thiago (5), Fabinho (6), Henderson (6), Salah (7), Nunes (7) ) ), Gakpo (6).
Subscribers: Keita (6), Elliott (6), Oxlade-Chamberlain, Salah, Gomes (n/a).
Wolves:Kirkic (6), Lembikisa (6), Collins (7), Toti (7), Castro (6), Adama (6), Neves (7), Hodge (7), Ait-Nuri (6), Jimenez (5) ) ), Guedes (7).
Subscribers: Hwang (7), Cunha (7), Nunes (6), Semedo (6), Bueno (6).
Player of the Match: Goncalo Guedes.
How Wolves continued their revival to deny cup holders Liverpool
Jurgen Klopp defied many of his Premier League colleagues to name a Liverpool XI to bounce back from Monday's defeat at Brentford, but much of the first half at Anfield brought him familiar frustrations.
Gakpo and Salah both had early chances in Liverpool's good start, but their indolence at the back cost them even then.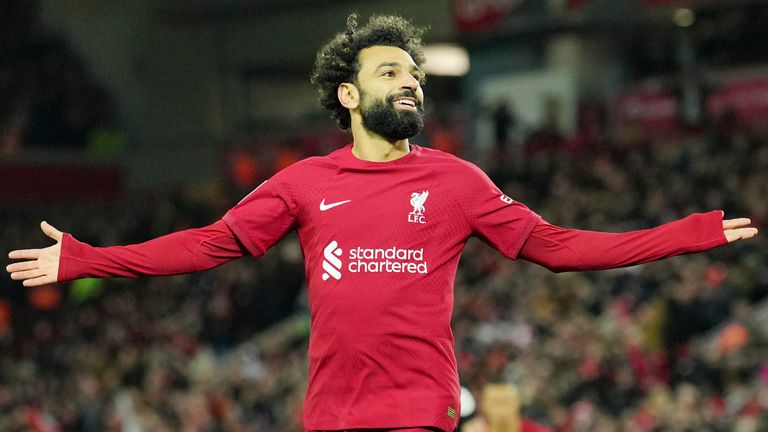 Guedes caught a cold as Joel Matip dribbled out of the Liverpool box and was lucky to get out unscathed.
Soon after, Alisson crossed straight to the Portuguese under little pressure before he was left to watch as he fired into an empty net.
Wolves weren't flattered by the scoreline, but minutes before half-time they took advantage through a move that they had little chance of stopping.
Team news
Jurgen Klopp has included new signing Cody Gakpo in the starting line-up for his Liverpool debut.
Julen Lopetegui made eight changes to his Wolves side, including rare starts for Toti and 19-year-old Dexter Lembikisa.
Alexander-Arnold's cross was good for Nunes, who almost did well to beat Sarkic.
The offside mayhem began with Liverpool's second goal seven minutes into the second half.
Salah headed home Totti's miscue, which would not have been attempted had the striker not been offside, and VAR awarded a goal that was confirmed after a brief review.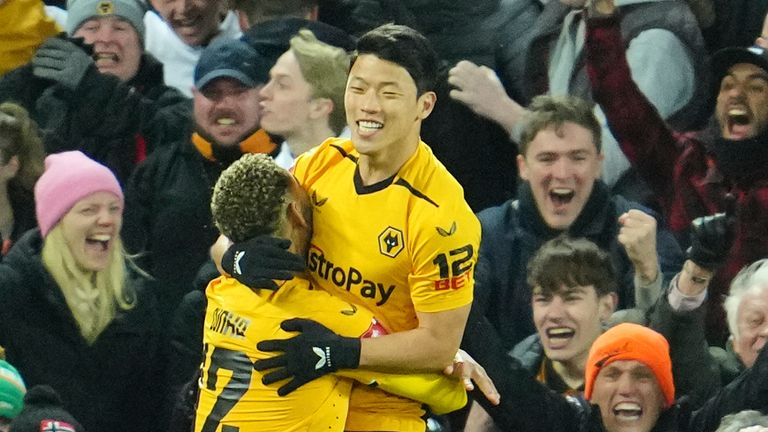 Wolves missed a golden chance to equalize when they played through Ryan Ait-Nouri but fired straight at Alisson.
But soon their sense of injustice was temporarily assuaged when substitute Hwang, returning from playing South Korea at the World Cup, burst into the Liverpool area and slotted home an equalizer after exchanging passes with Cunha.
But the visitors, particularly Lopetegui, were furious when Totti's winner from a corner was ruled out by the linesman's flag, with Mateusz Nunes adjudged to be offside.
After a lengthy VAR regime, Dean forced Wolves into a draw without being able to review the decision on the pitch himself, keeping Liverpool's hopes of retaining the trophy alive.
Klopp: I understand Wolves' frustration
Jurgen Klopp said he could imagine Wolves' frustration after one of their goals was disallowed, although not all camera angles were used in the VAR decision process.

Liverpool manager Jurgen Klopp:
"I couldn't see it at Thai. For me, I thought it was a goal. The player on the left corner could be offside, we have a corner, I saw it in the dressing room. It was offside, but I don't swear by it.
"That corner, if I'm right, there was no VAR. We had a similar situation in the Arsenal game, there was a corner and everyone thought it was offside, but we couldn't prove it.
"I don't know how these things could have turned out, but that's how it happened. So I understand the frustration of the Wolves, you want the right decision as much as we want it at that point."
Lopetegui: Both VAR decisions were wrong
Wolves manager Julen Lopetegui was left frustrated with his decision to deny his side a third goal in their FA Cup clash with Liverpool.

Wolves manager Julen Lopetegui told ITV about his visit to the referee's room after full-time:
"It was only about these two goals. We saw offside for our goal, but it wasn't there. It's impossible, but someone said it [the referee] it's offside. We've seen the picture, but it's not there.
"Liverpool's second goal was the same. It's the same rule. We talked a lot with the referees about this situation, a player took advantage of his position before Toti touched the ball. Of course, Toti reacts to his position. [Salah].
"The referee was very polite, he helped us, but now it happened and we have to accept it. It's a shame because we deserved to beat a fantastic team like Liverpool, we have to recover and go back to Nottingham Forest in four days' time. ."
What is next?
Liverpool next game on the hour Brighton The Premier League kicks off on Saturday, January 14 at 3:00 p.m.
Wolves"The next trip will see them travel Nottingham Forest On Wednesday in the quarter-finals of the Carabao Cup – it will start at 19.45.
Julen Lopetegui's side will then host their Premier League peers West Ham Saturday 14th January at 15:00 in an important high profile match.